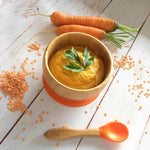 SWEET POTATO, CARROT & LENTIL SOUP
Ok weather if your going to look like this then fine - just make your mind up.
This soup / purée is the perfect comfort food.
You will need.
600g sweet potato (approx 2)
400g carrots (about 3)
1/2 red onion
200g uncooked red lentils
1 tsp dried thyme
1 pint water
1 pint vegetable stock
1 tbsp oil (I used olive)
Salt & freshly ground pepper, to taste
Fresh parsley to serve .
Heat oil in a pan
Add the onion, chopped and sauté until soft.
Add the peeled and chopped sweet potatoes, carrots and thyme and stir for a minute.

A

dd the rinsed lentils, water and stock. Add sea salt and pepper if desired (I add to mine separately later, enough flavour for the girls from the stock)
Bring to the boil, cover and simmer for 20-25 minutes until the vegetables and lentils are soft and cooked through.
When cooked wither use a hand blender or transfer to a food processor and blend until smooth
*TIP* this makes a GREAT purée for weaning! Just use 2 pints water instead of stock and no salt and pepper. Increase lentils to 250g. I used to make it like this and add extra stock at the end - purée for baby, soup for grown ups! Easy peasy and tasty!!