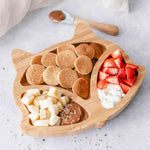 BANANA AND OAT MINI PANCAKES
Fun and fluffy bites of heaven!

Four ingredients only, this quick and easy vegan recipe is a go-to for us busy parents. Whip a batch up in a flash and serve these super cute and tasty pancakes any way you like. Stack em high with chopped fruit and creamy yoghurt for a balanced start to the day, or slide them onto sticks with slices of fruit to make delicious pancake kebabs!
INGREDIENTS
(makes about 25 mini pancakes)
1 small/medium ripe banana (about 100g without skin)
½ cup (120ml) oat milk
½ cup (50g) oat flour
½ tsp baking powder
METHOD 
Add banana and oat milk to a blender and blend until smooth.
Transfer to a bowl, add oat flour and baking powder, mix well, until no lumps are left.
Transfer the mixture to a squeeze bottle and cook mini pancakes on a hot non-stick pan, until golden brown on both sides.