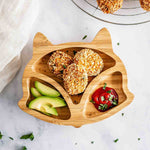 Sweet Potato & Fish Nuggets
Another yummy and healthy recipe from us for your kids - Sweet Potato & Fish Nuggets. Get the best recipe from us!
Makes: 14 nuggets
Time: 1 hour + chilling
Age: 12+ months
Ingredients:
300g sweet potato
150g skinless and boneless haddock fillet
50g Panko breadcrumbs
2 large eggs
2 cloves of garlic
3 Tbsp fresh parsley
2 Tbsp extra virgin olive oil
2 Tbsp freshly squeezed lemon juice
1 Tbsp dried oregano
Instructions:
Preheat the oven to 180C and line a baking tray with aluminium foil.

Place the haddock fillets on the foil and bake in the oven for 20-25 minutes, until flaky and cooked through. 

Remove from the oven and set aside. Set the oven to 200C and line a baking sheet with parchment paper.

With a fork, pierce the whole surface of the potatoes and place them on a microwave-safe plate.

Cook on full power (800W) for 4 minutes. Flip them and cook for 2 extra minutes or until they are soft enough for a fork to pass through. Let them cool down.

Meanwhile, break the haddock fillet into small flakes and put it in a bowl.

Mince the garlic, finely chop the parsley and beat 1 egg.

Add the garlic, parsley, egg and oregano to the bowl with the haddock.

Cut the potatoes in halves lengthwise, scoop out the flesh and mash it in a bowl with the olive oil and the lemon juice.

Add the mashed potatoes to the bowl and mix all the ingredients well.

Take a tablespoon of the mixture at a time, shape it into nuggets and place it on the parchment paper.

Let set in the fridge for 10-15 minutes to firm up.

Meanwhile, beat the egg in a shallow bowl and place the breadcrumbs on a plate.

Dip each nugget into the egg mixture and then coat with the breadcrumbs. Place on the baking tray.

Bake at 200C for 15-20 minutes or until golden and crispy.

You can make these ahead and freeze unbaked nuggets for up to 3 months. Bake them from frozen at 200C for 20-25 minutes or until golden and cooked through.


Serve and enjoy!


Nutrition Information Typical Values: 
Nutrient
per 100g
per serving (35g)
Energy

797kJ/ 190kcal

279kJ/ 67kcal

Fat

of which saturates

8.2g

1.7g

2.9g

0.6g

Carbohydrate

of which sugars

17g

3.6g

6.1g

1.3g

Protein
10g
3.6g
Salt
0.24g
0.08g

Vitamin B 12

0.59ug (24%)

0.21ug

Lodine

98.1ug (65%)

34.3 ug 
% reference intake of an average adult (8400kJ/2000kcal)