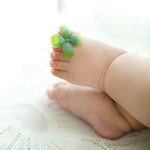 Our Top 5 Favourite Organic Baby Products:
Organic baby products are becoming very popular in the market and with parents, more and more we are seeing all kinds of foods, lotions and clothes made of entirely natural and organic materials. Babies have very soft and sensitive skin and are going through a very delicate stage in their lives, everything they eat and come into contact with can make an impact on their lives.
Here is a list of some of our favourite organic baby products.
Burt's Bees Multi-purpose Ointment: This is an excellent product, a well-known brand, his organic ointment is great for many uses. It is a non-irritating, petroleum-free ointment which can be used time after time day after day. Its soothing ingredients mean that repeated use will not have any ill-effect or cause any irritation even to your babies delicate skin. This ointment is great because it isn't just for babies, anyone can use it.
Green People Sun Lotion: Your baby has very sensitive skin and protecting them from the sun is very important. Their delicate skin can react to a variety of harsh chemicals, but they need to be protected from the sun. The Green People Sun Lotion is great for this, offering great protection for your children whilst being made from natural, organic ingredients.
Shoosha Baby Gentlest Baby Wash And Shampoo: This excellent baby wash and shampoo is made with nothing but pure organic ingredients, meaning that you can wash your baby with the comfort that they will be free of irritation or reaction to harsh ingredients. The hypoallergenic wash also means that there will be no reaction to any in-tolerances or allergies.
Babyganics All Purpose Surface Wipes: Babies touch everything, they get everywhere and put have a habit of putting anything they find into their mouths if they can. They are learning and exploring, interacting with the world around them, teaching themselves about their surroundings. They may be adventurous, but they are delicate, these wipes are a great answer to keeping their environment clean. The wipes are free of all harmful chemicals that could irritate your baby.
This hypoallergenic sleep pod is excellent for letting your baby sleep secure and problem free. Designed with your baby's comfort and safety in mind, this is a brilliant product, ensuring restful, portable sleep for your baby. Being portable, it makes it easy to place it in a cot to help them settle into sleeping in their own bed.