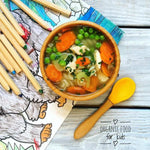 For the Brilliant Broth
1 chicken carcass, leftover from a carved chicken, all meat removed
14 cups water
1 large onion, peeled
3 carrots
2 celery sticks
1 clove of garlic
Salt and pepper to taste
In a large soup pot, add chicken carcass, water, onion, celery sticks, carrots and garlic. Season with salt and pepper. Cook for about 1½ hours.
Remove carcass and everything else from the soup
Add chicken meat, noodles and whatever veggies you like to your broth. I added carrots celery, peas, and garnished with parsley.
This makes for a tasty lunch or dinner option. We also like to use this method with roasted Turkey too.