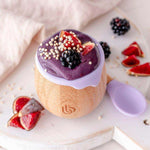 Oh SO good for your little one! 
Did you know, figs are one of the best health supplements you can give to your bubba? Not only are they a rich source of vitamin C, protein, fibre and other nutrients, figs are also an antimicrobial agent making them an ideal ingredient for developing strong immune systems. 
Teamed with blackberries and banana in this creamy, smooth and delicious treat gives you a super nutritious breakfast, snack or even dessert! 
SMOOTHIE INGREDIENTS
(makes 1 serving)
Frozen banana, half of
Fresh fig, 1 ripe
Blackberries, 5-6
Chia seeds, 1 tsp
(optional) White tahini, 1 tsp
Rice or light coconut milk, ¾ cup
METHOD
Add all ingredients to a blender and blend on high until smooth and creamy.
Pour into a cup (optionally - decorate with a sprinkle of puffed quinoa) and serve.
NICECREAM PUREÉ INGREDIENTS
(makes 1 serving)
Frozen banana, 1 small/medium
Fresh ripe fig, 1 small
Blackberries, 4-5
Rice or coconut milk, 3-4 tbsp, if needed
METHOD
Blend all ingredients until smooth. You can use a traditional blender with a tamper for pushing the ingredients towards the blades, or an immersion blender. Use only the amount of plant milk that is necessary to keep the blender going.
Transfer to a cup, top with fresh fruits and - optionally - quinoa puffs. Serve immediately.
Enjoy