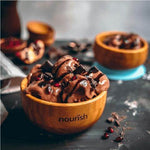 Easy to make Chocolate Nice Cream!
This chocolate nice cream boasts the same creamy deliciousness of traditional ice cream without all the fillers. Plus it's dairy free, refined sugar free, vegan and ready to eat in 10 minutes
Prep Time: 10 minutes
Servings: 2 people
Ingredients:
1 lb (2 heaping cups) chopped frozen banana
1 shot (1.5 fl. oz) coconut milk
2 tbsp quality cocoa powder
Instructions:
Pulse frozen bananas in food processor until they are smaller icy chunks. Add 1 shot coconut milk and cocoa powder. Blend nice cream mixture until smooth (approx. 3 minutes).
For soft serve style ice cream serve right away. For a harder ice cream transfer nice cream to a parchment-lined freezer-safe container and cover loosely with foil. Place in freezer to chill for 2 hours. Set out at least 20 minutes before serving for easier scooping.
Enjoy!