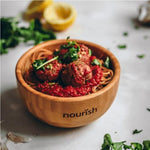 Hearty, savoury, garlicky meatballs just like you grew up eating… but totally meatless! These lentil and aubergine meatballs are packed with flavour, easy to whip up, totally vegetarian, vegan, and optionally gluten-free.
Prep Time: 30 Minutes
Cook Time: 20 Minutes
Total Time: 50 Minutes
Servings: 25 Meatballs
Ingredients:
3 garlic cloves
1 red onion
1 tbsp coconut oil
1 (425g) eggplant
1/2-1 cup gluten-free oats
1 cup cooked green lentils (you can also use black lentils)
1/3 cup black olives, pits removed and chopped
1/2 lemon zest and juice
2 tsp liquid smoke (you can also use tamari)
2 tbsp tahini
1 tsp ground cumin
3 tbsp nutritional yeast
1/4-1/2 tsp cayenne pepper flakes
Pinch sea salt and pepper (Optional)
 For the tomato sauce and spaghetti
3 garlic cloves, finely chopped
1 tsp coconut oil
1 jar (700g) organic tomato puree
pinch sea salt
1/2 lemon, juiced
INSTRUCTIONS
FOR THE MEATBALLS:
Finely chop garlic and onion and add to skillet with coconut oil. Bring to med-high heat and cook to soften (10 mins). Chop eggplant into bite sized pieces and add to the skillet. Cook until softened (15 mins).


Pulse oats in food processor until flour substance, then transfer to a bowl. Transfer the aubergine mixture to food processor with lentils, olives, lemon juice, tamari and tahini. Pulse to combine.


Spice meatball mixture with cumin, nutritional yeast, cayenne, and pinch salt and pepper. Add 1/2 cup of ground oats. Pulse to combine. (The oats will help to thicken the meatballs. Texture should be moist, but you want it dry enough to handle with your hands. I needed only 1/2 cup ground oats, but add more if needed).


Preheat oven to 350F/180C. Line a baking tray with parchment paper. Shape meatball mixture into little balls and place on tray. Bake for 10-15 minutes, or until meatballs are golden.


Make tomato sauce: add chopped garlic and coconut oil to saucepan. Bring to med-high heat and cook until softened (3 mins). Pour in tomato puree and cook on a gentle simmer. (Optional) Add a generous pinch of salt, lemon juice, and splash red wine. Sprinkle with cayenne or (optional) salt and pepper to taste.


Add meatballs to sauce and gently mix to combine. Keep meatballs on low heat while you cook spaghetti.


Cook spaghetti in large pot of water for 7-8 minutes, or until al-dente. Strain and divide into bowls. Top with saucy meatballs.
Enjoy!