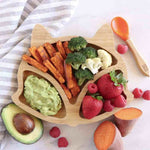 SWEET POTATO FRIES & AVOCADO DIP
I do not know a single person who doesn't like sweet potatoes. Okay, I do know one person like that but I'm 100% sure their dislike for sweet potatoes is imagined as they've never actually tried one. Imagine that?!
There is something so comforting and satisfying about sweet potatoes smothered in spices that most people find them completely irresistible. For me it was love at first bite. If you are a fan of these beautiful orange spuds too, you and your little one are in for a real treat today.
Ingredients: Sweet Potato Fries
1 large sweet potato
1⁄2 tbsp coconut oil, melted
1⁄2 tsp garlic powder
1⁄2 tsp onion powder
1⁄2 tsp paprika
1⁄2 tsp salt
1⁄8 tsp black pepper
Optional side: broccoli and cauliflower
Ingredients:
Avocado Dip
2 large, ripe avocados
1 tbsp lime juice
1⁄2 tsp garlic powder
1⁄2 tsp salt (optional)
1 tbsp cilantro, diced
Instructions:
Preheat oven to 400F
Combine garlic powder, onion powder, paprika, salt, and black pepper in a small dish. Set aside.
Slice sweet potato into wedges or shoestring fries. Place into a large mixing bowl. Toss in coconut oil and the seasoning mixture. Use clean hands to evenly coat the fries.
Line a nonstick tray with the fries and (optional) broccoli and cauliflower. Roast at 400*F for 25-30 minutes.
Meanwhile, remove pits from the avocados and combine. Mash together until nearly smooth. Add in lime juice, garlic powder, salt, and cilantro. Mix together and set aside.
Serve the sweet potato fries and roasted veggies immediately out of the oven. Add avocado dip on the side.
See how we made it: