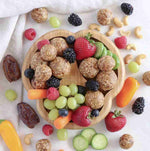 PEANUT BUTTER BLISS BITES
Looking for an afternoon pick me up that the kids will love after school as well? These bliss balls combine the classic flavours of chocolate and peanut butter to make a bliss ball that feels like a real treat.
If you close your eyes and eat one of these Peanut Butter Brownie Bliss Balls, you're probably not going to think you're eating a brownie, but it does have the same rich, chocolatey, fudge-like flavour (without an ounce of guilt!). Yep, these taste like a really naughty little treat… but they're actually a healthy snack. HOW GOOD IS THAT!!!
Peanut Butter Bliss Balls (Makes 12)

Ingredients
15 soft medjool dates
1 + 1⁄4 cup roasted, unsalted cashews
1⁄2 cup roasted, unsalted peanuts
1⁄8 tsp salt
Optional side: fresh fruit and veggies
Instructions:
Remove pits from medjool dates. Combine dates, roasted cashews, roasted peanuts, and salt into a food processor. Blend/pulse until a nearly smooth dough forms.
Roll dough into bite-sized pieces. Serve with a side of fruit and veggies.
Keep bliss bites stored in the refrigerator if saving for later.
How we made it.