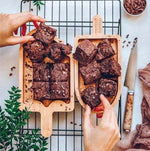 These brownies are completely vegan and gluten free, although you'd never guess it taking a bite. Perfectly crisp on the outside, super fudgey centre, chewy or gooey in all the right places! This treat is for parents and big kids if they're on good behaviour.
Prep Time

15 minutes
Cook Time

30 minutes
Total Time

45 minutes
Servings

16 brownies
Ingredients:
4 tbsp (60 ml) ground chia
1/2 cup ( 120 ml) + 2 tbsp (30 ml) water
2/3 cup (160 ml) coconut oil
1 cup (200g)  demerara sugar, or raw cane sugar
3/4 cup (90g) coconut sugar
1 tsp (5 ml) vanilla extract
1 cup (100g) cocoa powder
1 cup (100g) + 2 tbsp (15g) coconut flour
3/4 tsp baking powder
3/4 tsp sea salt finely ground
3/4 cup (100g) semi-sweet dark chocolate chopped into chunks
Directions:
Combine ground chia and water in a bowl. Whisk together. Wait at least 10 minutes for consistency to become egg-like. 
In a saucepan melt coconut oil, add demerara sugar, and coconut sugar and vanilla. Add chia egg and stir to combine liquids.
Sift cocoa powder and coconut flour into a large mixing bowl, add baking powder and sea salt and mix to combine. Then pour in liquid mixture. Stir to combine, but don't over mix. Add semi-sweet dark chocolate chunks and stir again to combine.
Preheat oven to 350F/175C. Line a baking dish with parchment paper and pour brownie mix into dish (I used a 7x7 inch baking dish), smooth with spatula to even. Bake brownies for 30 minutes, or until a toothpick inserted into the brownie comes out clean. Let cool before cutting.
Enjoy!