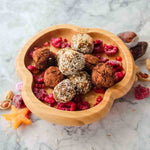 Bliss balls have bounced right to the top of our favourite snack list and boy are they tasty. These healthy homemade treats are great for encouraging snacking on the good stuff fun.
These delicious, refined sugar free, baked bliss balls are easy to whip up and are the perfect portable snack.
SNACK - makes around 20 balls
Ingredients:
100g of pitted dates, soaked in water
100g of oats
50g of coconut flour
50g of nuts
1tsp of vanilla extract
Desiccated coconut + cacao powder
Here's how
Preheat the oven to 180°C (350°F).
Place the dates, oats, coconut flour, nuts and vanilla extract in a food processor. Process for 2–3 minutes or until the mixture comes together.
Roll 2tbsps portions of the mixture into balls.
Roll half the balls in a bowl with cacao powder and the other half in the desiccated coconut to coat.
Bake on a parchment lined baking tray for around 15 minutes or until the coconut becomes slightly toasted.
Enjoy!