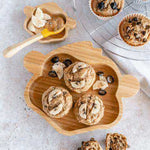 PEANUT BUTTER AND BANANA BREAD MUFFINS
Wave goodbye to the classic loaf with these flavour winning Peanut Butter and Banana Bread Muffins.

A one-bowl recipe that delivers super soft, moist and fluffy muffins, that are also sugar-free, oil-free and vegan friendly! A perfect treat for those little hands to dig into (ahem, and big hands too!)⁣⁣
INGREDIENTS
(makes 9 muffins)
2 ripe medium bananas (about 200g without skin)
¼ cup (60g) of smooth and runny peanut butter (sub any other nut or seed butter)
¼ cup oat milk (sub almond milk)
2 tsp apple cider vinegar
1 cup (110g) wholemeal spelt flour
½ tsp baking powder
½ tsp baking soda
½ tsp cinnamon (optional)
METHOD
Preheat the oven to 180C.
In a large mixing bowl, mash the bananas with a fork.
Add peanut butter, oat or almond milk and apple cider vinegar. Whisk with the fork until combined.
Add spelt flour, baking powder, baking soda and cinnamon. Mix only until combined, don't overmix.
Prepare 9 silicone muffin molds. Add a heaped tablespoon of batter to each mold, optionally decorate with banana slices, blueberries or sugar free chocolate chips.
Bake for about 18 minutes, until golden brown on top.
Cool on a cooling rack.