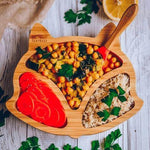 CHICKPEA CURRY IN A HURRY
This 10 Minute Chickpea and Spinach Curry is an easy vegan curry that you need in your life.
It's low in calories and fat and you just tip everything in to the pan and it's ready less than 10 minutes later. Bursting with iron rich spinach and protein packed chickpeas, this curry freezes well and it's easy to adapt.
If you're in search of a fast and flavourful meal, this recipe is for you. I'm confident that you'll like it!
Prep Time

15 minutes
Cook Time

15 minutes
Total Time

30 minutes
12+ Months Plus
Servings

4 people
Ingredients:
1 sweet onion, diced
3 cloves garlic, finely chopped
1 tbsp coconut oil
2 zucchini, chopped
1 tbsp tomato paste
1 tsp  ground cumin
1 1/2 tsp ground turmeric
1/2 tsp sea salt (optional)
1/2 can (200ml)  coconut milk
3/4 cup (180ml) filtered water
2 cup cooked chickpeas
1 handful spinach
cayenne pepper (optional to taste)
Instructions:
In a saucepan add onion, garlic and coconut oil. Bring to medium heat and cook onion and garlic, stirring often until translucent (approx. 10 minutes). Add chopped zucchini and sauté stirring often until softened (approx. 10 minutes).
Add tomato paste, cumin, turmeric, sea salt (optional) , coconut milk and water. Stir to combine. Optional to add more spices (cumin, turmeric, tomato paste, and/or salt) and more coconut milk to taste if desired. Bring curry to a light simmer. 
Pour in chickpeas and stir to combine. Then add handful of spinach and stir until wilted. Add cayenne pepper to taste. Serve curry with brown rice, naan or pita bread.
Enjoy!