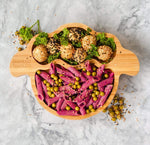 BEET PENNE WITH SESAME POTATO BALLS
Now let's talk about this beet penne pasta. Don't you just love the colour!? It's a delicious and wholesome dinner recipe that children would love. With a little beforehand preparation, this dish can be quickly prepared and you will surprised with the compliments you get. 
MAIN - 2 servings
Ingredients:
2 cups of beet penne (or any pasta of your choice)
1 can of peas, rinsed & drained
1tbsp of sesame oil
1 clove of garlic, minced
Salt and pepper to taste (optional)
300g of cooked potatoes, without skin
1tbsp of flour
1tbsp of soy milk
1tsp of nutmeg powder
Sesame seeds
Instructions:
Preheat oven to 180ºC(350ºF).
Place the cooked potatoes with soy milk, flour, nutmeg, a dash of salt and pepper (optional) into a food processor or blender.
Roll the potato mixture into balls. You might need more flour if the mixture is too sticky. To coat, roll the balls in a bowl with sesame seeds.
Bake the potato balls on a parchment lined tray for around 15 minutes.
Meanwhile, cook your pasta according to package instructions.
After draining, put them back into the pan and add sesame oil, peas and minced garlic. Give it a good stir. Cover with a lid to keep warm.
Serve pasta with the potato balls
Enjoy!