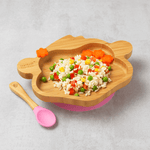 Super Colourful Rice Salad: Fast and Easy
Another healthy dish for your kids - this is a super-colourful rice salad with peas and corn, that's packed full of delicious flavours and textures.

Ingredients:
40g Arborio rice
1Tbs peas
1Tbs corn
1Tbs red pepper, diced
½ Tbs extra virgin olive oil
Instructions:
● Boil plenty of water in a pot.
● When the water is boiling, add the rice and cook according to the time on the package.
● Drain and rinse the rice under cold water.
● Put the rice in a bowl and drizzle with some olive oil, mix well.
● Add the peas, the diced pepper, the corn and mix well.
● Serve and enjoy!